Articles
What we're contemplating, doing, and reading.
Compassion Institute Partners with Kinder Leeds – Thupten Jinpa delivers keynote speech "Transforming Society Through Compassion"
On October 10th, Compassion Institute partnered with Kinder Leeds to have Thupten Jinpa, Ph.D. deliver the keynote address at the Leeds Festival of Kindness, Compassion and Wellbeing 2021. Dr. Jinpa,  principal English translator to His Holiness the Dalai Lama and President and co-founder of Compassion Institute, spoke on the topic of "Transforming Society Through Compassion." Dr. Jinpa was introduced by Shaid Mahmood, Chief Officer for Transformation and Change at Leeds City Council.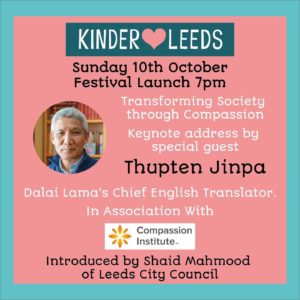 Festival organizer David Midgley began the session by asking Shaid Mahmood what a compassionate city looks like. After an inspiring answer from Mr. Mahmood about Leeds' focus on centering compassion at the civic level, Jinpa's keynote began with an intention setting practice for the keynote and for the festival itself. He then expressed admiration for the compassionate cities movement, exemplified by the work of Leeds, to go beyond rhetoric by working to deeply instill compassion throughout its city's sectors. After touching on the scientific research demonstrating the connection between compassion and wellbeing, Jinpa shared the focus of Compassion Institute's work in the key sectors of healthcare, law enforcement, and education as one example of how to begin to work to transform society. Jinpa said this must be done alongside efforts of cities to ensure that compassion is upheld as a value at the individual level.
Shaid Mahmood opened the dynamic Q&A with the question "What does it look like when [compassion] is not there [in a city]?"
Jinpa responded by saying, "I think when it is not there… it manifests in the form of people being very suspicious of each other and not feeling safe. And also feeling alienated, because at the core of compassion is the human connection. In areas where people don't feel enough compassion, then they tend to tap into their darker side of human nature…So when the darker side is tapped into (sic) then tribalism, self-focus and resentment…all sorts of things come up. So, I think adopting compassion as an explicit value, in some sense, puts the onus on everybody [in society] to bring their better self. So, that is the power of [compassion]."
You can watch the entire keynote and Q&A here.
The Leeds Festival of Kindness, Compassion & Wellbeing ran from October 10th to 16th, 2021.
To access materials from the festival's events and offerings, please visit: https://kinderleeds.org