Articles
What we're contemplating, doing, and reading.
Buddhism, Science, Compassion, and Climate: An Interview with Dr. Thupten Jinpa
Compassion Institute President and co-founder Thupten Jinpa, Phd is featured in the latest episode of Science & Wisdom LIVE's podcast. Science & Wisdom LIVE brings contemplative practitioners into conversation with scientists to discuss society's biggest challenges and explore the middle ground between science and contemplative traditions. This episode is the fruit of a collaboration between Science & Wisdom LIVE and A Skeptic's Path to Enlightenment.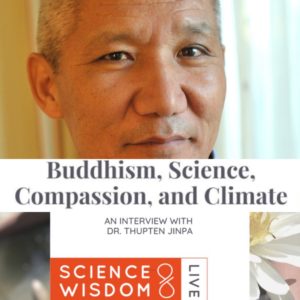 In this interview, Jinpa talks about the relationship between science and Buddhism, discussing the role of critical thinking in contemplative practices and scientific inquiry. He also focuses on the powerful role of compassion, on how ethical principles can help us address the climate crisis, and on the key virtues that promote fulfilling relationships and a harmonious family life.
You can listen to the episode here.