Articles
What we're contemplating, doing, and reading.
Compassion Institute Program Director, Jane Chun Ph.D, co-delivers keynote to ARN Conference
Compassion Institute's Program Director for Healthcare and Public Health, Jane M. Chun, Ph.D, and Gary Hsin MD will be presenting the keynote at the 2021 Association of Rehabilitation Nurses (ARN) Conference on Friday, November 12. The keynote is titled "Compassion at Work: Preventing Burnout in Healthcare."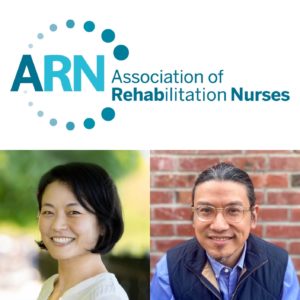 The evidence is compelling. Compassion has been shown to improve many dimensions of healthcare, including patient health outcomes, patient satisfaction, clinician well-being, team well-being, and quality and process of care. While compassion is an inherent quality we all have as human beings, it can also be cultivated and strengthened. Our goal is for compassion to become the default place from which we approach and respond to any situation, rain or shine.
While burnout has been increasingly acknowledged as a growing crisis in healthcare, the pandemic has exponentially increased the sources of stress for healthcare professionals. Because of this, the skills to manage stress, calm the nervous system, and process difficult emotions are all the more important. As experts in compassion-based interventions, our goal is to care for those who care for us and others. Gary Hsin and Jane Chun will share with attendees the tools and skills to care for their own well-being.
For more information on the event, please visit here.
For more information on the ARN, please visit here.
---
About Gary Hsin, MD
Gary is a hospice and palliative care physician. He is the Chief of Palliative Medicine at the Veterans Affairs Palo Alto Health Care System, and Clinical Professor of Medicine (affiliated) at Stanford University School of Medicine. Compassion connects and sustains his interests in medical education, palliative care, and global health by focusing on our common humanity. In teaching compassion cultivation to health care providers he has seen how compassion cultivation can deepen one's commitment and resilience in work and life.
About Jane Chun, PhD
Jane works at the intersection of inner states of being and organizational and systems change. As Program Director and Content Specialist at the Compassion Institute, she oversees and designs initiatives in healthcare and social change. Jane is also a Compassion Cultivation Training (CCT) facilitator. She has facilitated inner inquiry journeys at organizations including the Task Force for Global Health, California Primary Care Association (CPCA), UCSD Health Sciences, UN Development Programme (UNDP), Union Theological Seminary, Columbia University Business School, NYU Center for Human Rights and Global Justice, among others. She holds a PhD from the University of Oxford in Clinical Medicine with an International Development focus, and an MA from American University in International Peace and Conflict Resolution.
Jane has experienced burnout as a humanitarian and international development professional working in the UN. It is her strong belief that it is possible to do the work of service and caring for others while embodying self and collective care within organizations, and loves walking this path with partners who also believe in this vision.